Art Gallery
More can be found in my dedicated galleries on sites like deviantart or furaffinity!
About the Artist
Hello! My name is Kida. I was born in 1995 and currently reside in Florida. I've been an artist since I was a toddler, drawing Sonic OCs and dragons constantly. These early interests shaped me as a person, so it's no surprise I've become so invested in the furry fandom! My first convention was in 2016 and I've been entrenched ever since.I really love drawing anthro characters of all shapes and sizes, and dragons/monsters as well. I hope you enjoy my art!I also love to play video games with my friends, and stream myself playing them as well! I hope to develop my own video games in the future.
Commission Prices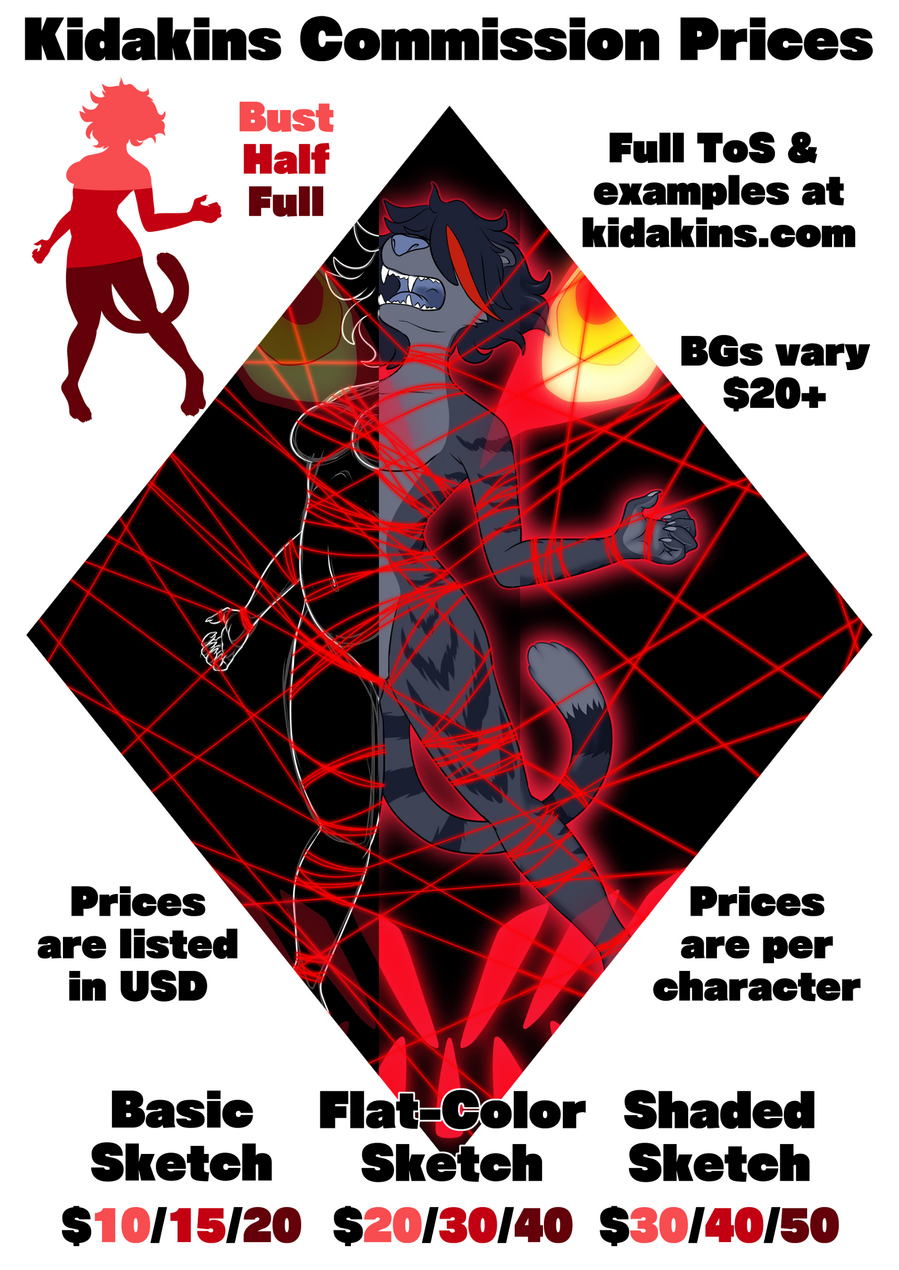 All prices are per character.
Basic Sketch
Can be digital or traditional.Bust: $10
Half Body: $15
Full Body: $20
Flat-Color Sketch
Bust: $20
Half Body: $30
Full Body: $40
Shaded Sketch
Bust: $30
Half Body: $40
Full Body: $50
Backgrounds
$20+Price varies with complexity.
Simple color/gradient/texture backgrounds are free.
Telegram Stickers
$25 eachCan also crop/remove backgrounds from existing commissions for free
Terms of Service
By commissioning me you understand and agree to my Terms of Service. Please read carefully before placing your commission as failing to acknowledge or abide by these guidelines will lead to a void transaction and cancellation of your commission. You also risk a permanent blacklist ban from future commission opportunities.If you have any questions, please contact me via email.
General
You must be 18 years or older to commission me.

I reserve the right to refuse, cancel, and refund any commission(s) for any reason, at any time, without explanation.

Please direct business inquiries to kidakinsart[at]gmail.com.

If you choose to contact me through any other means than my business contact email, you acknowledge that I cannot guarantee a timely or professional response.

If I do not respond within 48 hours, please feel free to send another message. I can sometimes miss notifications.

There are no deadlines unless specified otherwise, only rough estimates.

My work queue is private but can be viewed upon request!

Clients can request anonymity and/or an alias on the queue and on posted art.
Payment
I only accept payment through Paypal invoices, Ko-fi commissions, or Cash app. I will send you an invoice or finalized quote once confirmation on commission details and price have been made.

If you need to use an alternative payment service to the ones listed or pay with goods, I am open to discussion but will most likely decline.

Payments must be sent in their entirety upfront unless otherwise agreed upon.

I will not issue refunds for clients' failure to manage personal finances.

I will not issue refunds on completed commission work.

For in-progress commissions, a partial refund will be arranged with the refunded amount dependent on the stage of completion the work is at. I retain the rights to any artwork produced.

Unauthorized chargebacks or disputes will result in you being blacklisted.
Process
Clear and concise visual references and a brief description of a commission idea must be provided. I will typically not accept purely text-based descriptions for commissions. Even a stick-figure concept sketch can be beneficial to commissioned artists.

I will not be held at fault for any mistakes made on the final product due to incorrect or missing information.

If you need your commission completed by a certain date, please inform me during your order. My delivery time can range from a few days to a few weeks, even a few months for larger pieces, so if you need it within a certain time-frame, it would help me to know so I don't disappoint.

I generally work on my commissions in the order I receive them, with the only exception being time-sensitive commissions that need to be completed sooner.

I will share WIP shots of your commission upon request, as well as at key stages (sketch completion, lineart completion, flat-color completion, etc). These shared WIP stages are your opportunity to give feedback and request changes to the art.

Any major edits to a commission after the sketch/lineart stages may incur an additional fee.
Usage
I retain all rights over any of the work I produce, which include but are not limited to the right to distribute, reproduce, or use the image as a sample for sales or self-promotion.

My signature/watermark must remain on any and all images provided.

You may not claim my artwork as your own. Credit must be given if the art is reposted anywhere.

You cannot profit from my work in any way, shape, or form. You may not resell my art, use it on merchandise, or use it as a "base" to alter/color and sell as adoptables/character designs/etc.

You may not make prints of my work. You may resize or crop the artwork to create icons, wallpapers, or other graphics to be used in noncommercial digital format, but you cannot alter the artwork itself or have someone else alter the work without prior permission.

You may not edit my work or have another artist edit my work without my explicit consent.

I will never claim your characters as my own or use them for profit.